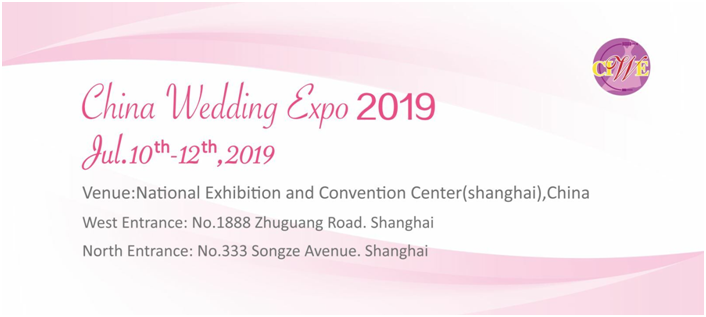 Dear Madam/Sir,
Greetings from China Wedding Expo. We would like to extend a warm welcome to you to join in the biggest and greatest wedding expo ever in China!
Basic Information
China Wedding Expo 2019 (Autumn)
Exhibition Date: Jul. 10-12, 2019
Exhibition Venue: National Exhibition and Convention Center(Shanghai)
Address: No.333 Songze Avenue, Qingpu District, Shanghai (North Entrance)
No. 1888 Zhuguang Rd, Qingpu District, Shanghai (West Entrance)


● One-stop Trade Procurement Platform for Wedding Industry
With 18 years of efforts and development, China Wedding Expo has grown into a one-stop trade procurement platform housing four sub-exhibitions - Shanghai Wedding Theme Photography & Trip-shot Expo, Shanghai International Wedding Industry Trade Fair, Shanghai International Wedding Dress Makeup & Fashion Accessories Expo and Shanghai Wedding Photo Album, Frame & Consumable Material Expo. Each sub-exhibition plays a dual role as an independent exhibition itself with its own exhibiting and activity areas and as an essential part of the whole expo to build a comprehensive wedding industry expo with expertise. The upcoming event in July is expected to release over 1000 latest products, drawing great attention from home and abroad.

China Wedding Expo 2019 will have 3 exhibition halls and the North Hall to display various custom wedding-related products. Meanwhile, a variety of splendid activities will be held concurrently, aiming to provide a sharing and win-win platform for exhibitors and visitors. These activities include Shanghai International Wedding Industry Trade Forum 2019, Shanghai International Imaging Post-Production Forum 2019 (Autumn). Shanghai Bridal Fashion Week 2019 (Autumn) will continue to unveil an amazing runway in North Hall.


● One-stop Trade Procurement Platform for Wedding Industry
With 18 years of efforts and development, China Wedding Expo has grown into a one-stop trade procurement platform housing four sub-exhibitions - Shanghai Wedding Theme Photography & Trip-shot Expo, Shanghai International Wedding Industry Trade Fair, Shanghai International Wedding Dress Makeup & Fashion Accessories Expo and Shanghai Wedding Photo Album, Frame & Consumable Material Expo. Each sub-exhibition plays a dual role as an independent exhibition itself with its own exhibiting and activity areas and as an essential part of the whole expo to build a comprehensive wedding industry expo with expertise. The upcoming event in July is expected to release over 1000 latest products, drawing great attention from home and abroad.

● Multiple Cooperation, Innovative Interaction
China Wedding Expo has been focusing constantly on the industry hotspot and trends. China Wedding Expo 2019 will have 3 exhibition halls and the North Hall to display various custom wedding-related products. Meanwhile, a variety of splendid activities will be held concurrently, aiming to provide a sharing and win-win platform for exhibitors and visitors. These activities include Shanghai International Wedding Industry Trade Forum 2019, Shanghai International Imaging Post-Production Forum 2019 (Autumn). Shanghai Bridal Fashion Week 2019 (Autumn) will continue to unveil an amazing runway in North Hall.


● BOOTH APPLYING, PLEASE CLICK: [APPLY NOW!]

For more information, please contact us:
Shanghai International Exhibition Co.,Ltd.
Tel: (86-21) 62792828
Email: chinawedding@siec-ccpit.com

Privacy Policy
Your privacy is very important to us. Accordingly, we have developed this Policy in order for you to understand how we collect, use, communicate and disclose and make use of personal information. The following outlines our privacy policy.
1.We will collect and use of personal information solely with the objective of fulfilling those purposes specified by us and for other compatible purposes, unless we obtain the consent of the individual concerned or as required by law.
2.We will only retain personal information as long as necessary for the fulfillment of those purposes.
3.We will collect personal information by lawful and fair means and, where appropriate, with the knowledge or consent of the individual concerned.
4.Personal data should be relevant to the purposes for which it is to be used, and, to the extent necessary for those purposes, should be accurate, complete, and up-to-date.
5.We will protect personal information by reasonable security safeguards against loss or theft, as well as unauthorized access, disclosure, copying, use or modification.
6.We will make readily available to customers information about our policies and practices relating to the management of personal information.
7.If at any point you believe the personal information about you is incorrect you request to see this information and even have it corrected or deleted. If you wish to raise a complaint on how we have handled your personal data, you can contact us by e-mail or phone and we will investigate the matter.
8.We are committed to conducting our business in accordance with these principles in order to ensure that the confidentiality of personal information is protected and maintained.


Contact Us
Tel:(86-21) 62792828
Fax:(86-21) 65455124
Email:chinawedding@siec-ccpit.com